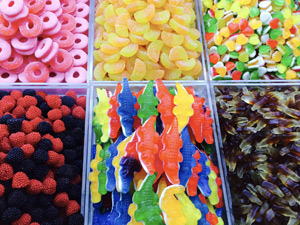 While your body does need some sugar or glucose to create energy, it only needs a little to carry out its required functions. Consuming too much sugar is harmful to your overall health. The overconsumption of sugar is becoming more and more linked to health issues related to the brain such as depression, memory problems, learning disorders, and overeating.
Your Body Sees Sugar as a Drug
Sugar has become the substance that is moving the U.S. into a situation of medical collapse. While many think of illicit drugs as being the only substance that can do this, sugar has actually been proven to trigger a reward state in the brain that is similar to addictive drugs.
Not only can sugar substitute for illegal drugs such as cocaine, it can even be more rewarding.
The effects of sugar on your brain may help explain why people have difficulty limiting their consumption of sugar when they are continuously exposed to it. Studies suggest that there is a high degree of overlap between the parts of the brain that are involved in processing natural sugar and illicit drugs.
Non-drug addictions have become increasingly studied and have shown themselves to manifest in symptoms such as craving, lack of behavior control, increase in tolerance, withdrawal symptoms and relapse.
How Sugar Addiction Begins
The brain's nucleus accumbens and prefrontal cortex drive a person's intentional actions, such as continuing to consume sugar.
The prefrontal cortex also activates dopamine, which helps control the brain's reward and pleasure centers. The long-term stimulation of this area of the brain begins the process of addiction.
When you consume sugar, you experience pleasure from the dopamine signal that is sent to your nucleus accumbens, which makes you want to consume more. With prolonged exposure, the pleasure signal weakens, causing you to consume more sugar to get the same effect. If you discontinue taking the substance, you experience withdrawal symptoms, which means you have an addiction.
Each time you consume sugar, a pattern in the brain is activated and becomes more defined, making it easier to activate the pattern in the future. Soon, the neuronal pathway that is led by the addiction becomes your brain's unconscious default. Because your brain wants to be efficient, it takes the most familiar route, which requires your substance of choice.
Food Addiction Is Real
Research has used MRIs to examine the effects of foods that are high in sugar on brain activity. The researchers found that after eating a high glycemic index meal, blood sugar spikes and then later has a sharp crash. This crash in blood sugar stimulates more brain activity in the brain's pleasure center, causing the brain to crave more sugar.
Sugar and Alzheimer's Disease
Insulin is often associated with keeping your blood sugar stable, but it also works with the signals in your brain. Studies have shown that when the signals of insulin in the brain are disrupted, researchers are able to induce confusion, the inability to remember, and disorientation, which are all common signs of Alzheimer's.
Studies have linked type 2 diabetes with an increased risk of dementia, and even a mild elevation of blood sugar can lead to an elevated risk for dementia.
How Glucose and Fructose Affect Your Brain
Increases in fructose consumption are parallel to the increases that are seen in obesity rates. Because of this, diets that are high in fructose are believed to promote weight gain and insulin resistance. Studies have been done using MRIs to identify the neurophysiological factors that are related to fructose consumption versus those of glucose consumption.
The research shows that fructose, which is extracted from corn, may increase the brain's interest in food, while glucose triggers the brain's satiation signal, telling you that you're full.
This research, as well as others, have shown the importance of paying attention to the kind of sugar you are consuming. Because fructose does not stimulate insulin and therefore doesn't let your brain know when you are full, you are likely to continue to eat past the point of being satisfied and develop insulin resistance.
Research also shows that consuming fructose may influence you to eat impulsively, continuing to consume food even after your body should have known that you have had enough. Continuing to consume fructose in large amounts will become problematic if you are already in the habit of overeating.
Fructose Leads to Weight Gain
Fructose is often consumed in beverages such as soda and juice, making its negative metabolic effects even worse. The high fructose corn syrup in beverages is metabolized as body fat much quicker than any other sugar.
The liver is solely responsible for metabolizing fructose. This harms and overloads your liver, opening it up to the possibility of damage. Fructose also promotes adipose fat, which is a body fat that collects in your midsection and is associated with a higher risk of heart disease.
Unlike liquid high fructose corn syrup, the fructose that is found in fruits and cane sugar is bonded with other sugars, which decreases its metabolic toxicity. Eating large amounts of fructose is the quickest way you can harm your health. It invites health problems such as:
arthritis
cancer
gout
heart disease
insulin resistance
metabolic syndrome
obesity
type 2 diabetets
high blood pressure
high LDL cholesterol
liver disease
How to Limit Your Sugar Consumption
Natural sugar is not bad when it is consumed in small amounts that let you burn fat as your main fuel. However, processed fructose can have significant effects on your health.
It is important to limit your consumption of processed foods, refined carbohydrates such as cereal, pasta, bread, and other grain foods, because these foods break down into sugar, increasing your insulin levels and leading to insulin resistance. It is best to keep your fructose consumption below a total of 25 grams per day. It is important to remember that fruits naturally contain fructose.
If you consume a high amount of fructose from fruit, you can decrease your insulin sensitivity and raise your uric acid levels. Artificial sweeteners also cause health problems that are worse than the problems associated with high fructose corn syrup and sugar. To limit your sugar consumption:
eat more healthy fats in foods like avocado, almonds, salmon, and coconut oil
drink plenty of water
add fermented foods to your diet such as kefir and kimchi
For more articles go to http://thrivefitnessandwellness.lifestyleezine.com