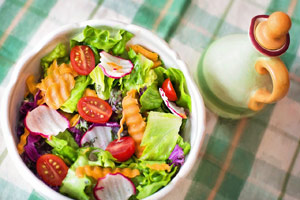 While salads used to be an afterthought or a side dish, they are often now the main course of a meal. With the inclusion of fresh vegetables, nuts, and grains, you can fit all of the food groups into one dish and make a hearty salad that will suit your appetite until the next meal. Here are some salad suggestions and inspirations to help you create delicious and healthy salads throughout the week.
Make a Theme
Just like many restaurants do, think of a theme for your salad to help narrow down its ingredients. For example, if you want to do a southwestern-style salad, grab some black beans and corn to go on top of a bed of fresh greens. You can also put some avocado or guacamole on top with a little bit of salsa. A few crispy tortilla strips would add a bit of crunch.
You could even choose to highlight some in-season ingredients that are full of flavor such as watermelon and berries during the summer and root vegetables in the winter like sweet potatoes.
Is there a salad at a restaurant that you find yourself craving? Try recreating it for a less expensive version. This will give you more control over its ingredients and dressing as well. Maybe add extra slivered almonds if you prefer or go a bit lighter on the dressing than they would do at a restaurant.
If you just want to make a side salad, consider your main dish to get some inspiration. For example, do you have leftover avocado from your dinner ingredients? Maybe some grilled onions if you are making burgers? Chop them up and add them to your salad to tie the whole meal together.
Consider Your Greens Wisely
Use fresh, organic greens if they are available, and thoroughly dry them before adding any dressing. Any water that is left on your greens will repel oil, so your dressing will not go on evenly and your salad will feel heavy and damp.
Kale is a great option because it is sturdy and will not be disintegrated by dressing in the refrigerator for a few days. It can hold up well over time because it is so thick. Arugula is also great, however, it is best to eat it within two days of dressing it. Arugula does have a bitter taste that some people do not like, so if you are using arugula, consider mixing it in with other leafy greens as well. To be safe, keep your dressing and your salad separate until you are ready to eat it.
Romaine, spinach, butter lettuce, red leaf, etc. are all great options as well, however, it is important to store these greens away from any dressing and toss the dressing into the salad immediately before serving it.
Create Some Hearty Additions
Consider the theme of your salad to help you choose complementary flavors and textures. Use leftover grains such as quinoa and farro to add some depth and substance to your salad. Chickpeas and black beans also help make your salad a more hearty meal and add a lot of healthy protein.
To create some texture, add cruciferous vegetables such as broccoli. This will add a crunchy substance as well as additional vitamins, minerals, and antioxidants. You can also turn to thinly sliced cabbage or Brussels sprouts.
Complement Your Ingredients
Start with your fresh fruits, vegetables, and herbs to complement the theme of your salad. Then, consider contrasting the textures in your salad to make them more interesting. One great idea is to incorporate cooked vegetables with raw lettuce. For example, caramelized roasted vegetables like broccoli, onions, and peppers, can add a sweet flavor to some bitter lettuces, and apple cubes can add some additional texture to some salads.
Add in some healthy fats with avocados or olive oil. Also, toast some nuts to not only add flavor, but also a ton of protein and nutrition. You can also turn to dried fruit for some crunch that also adds some sweetness.
Some other distinctive add-ins include homemade croutons, torn pita bread, crispy tortilla strips, toasted coconut, and granola.
Properly Dress Your Salad
If you are going to go through all of the trouble to make a beautiful and delicious homemade salad, store-bought dressing may just ruin it. Instead, find a homemade salad dressing recipe that you love and make it in a large batch so you can always have some in the refrigerator.
Making salads is so versatile and there really is a mixture of ingredients out there for everyone's needs. Highlight your meal with a salad on the side that complements the entree or make your salad the main course and serve with a side of hearty bread for a complete meal.
For more articles go to http://thrivefitnessandwellness.lifestyleezine.com