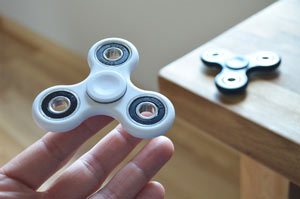 Fidget spinners, which are all the rage lately, are marketed as trendy toys and tools to help relieve stress and increase focus. But are these really all they are cracked up to be for people with ADHD, anxiety, and autism? While they first became newsworthy due to their potential choking hazard, they've continued to be talked about because experts can't decide whether fidget spinners are helpful or hurtful for children.
Is fidgeting beneficial?
Humans have fidgeted since the beginning of time and it has actually proven itself to increase energy and even help some people lose weight.
It has also been suggested that fidgeting can help occupy your brain, providing a distraction from negative thoughts and aiding in calmness and focus. Sensory putty and other therapy toys have been around for ages helping children with ADHD, autism, and anxiety, and fidget spinners could provide a similar benefit.
Some people who have experience with both autism and fidget spinners report that the sensory tool helps to relieve stress release from daily demands, similar to a stress ball or other devices that help to distract the mind. Because of this, professionals note that these gadgets should be referred to as tools instead of toys, and can be used to successfully manage fidgety behavior if they are introduced to children as a standard part of the classroom culture.
What about science?
While fidget spinners have been very helpful for some children, they have served as a distraction for others. Researchers have reported that these products have not been subjected to rigorous scientific research and therefore their alleged benefits are scientifically unfounded. They also want to remind parents that fidget spinners are a potential choking hazard and there are no peer-reviewed studies to support any beneficial claims.
A fidget spinner may actually be counterproductive in helping a child focus at school, as it may draw a child's attention away from learning. It can also serve as a distraction for classmates. While there may be some instances when fidget spinners offer some type of benefit, but, overall, physical activity is a better option for helping children achieve success.
How exercise helps children with ADHD
While there is very limited science behind fidget spinners for ADHD, there is a lot of research that shows exercise can relieve ADHD symptoms. Researchers have found that as little as 30 minutes of moderate to vigorous exercise each day has been able to enhance the cognitive function of children during tasks that require greater focus.
Physical activity is vital for any child's development, regardless of whether or not they have a learning problem. Both the cognitive and the physical benefits of exercise for children has been proven many times over as a do-no-harm intervention.
Specifically, a 10-week physical activity study performed on children with ADHD showed improvements in their muscular capacities, behavior, motor skills, and information processing ability. One reason for this is that exercise elevates dopamine, serotonin, and norepinephrine levels in the brain, which all play a role in attention span.
Exercise can have similar effects of medication for ADHD because it helps to ignite the attention system. This leads to improvement in focus, memory, and cognitive flexibility while causing children to be less impulsive and making them ready to learn.
What are the best exercises for children with ADHD?
Certain activities, such as competitive sports, may not be the best choice for children with ADHD, as they often have difficulty following directions or may lack the coordination skills of their classmates.
Instead, choose sports that let children be part of a team while also developing their own individual goals. Swimming, track, wrestling, or even playing tennis may be beneficial, especially if the coach is a supportive role model. The chosen activity should be something your child enjoys so they will want to keep doing it.
Activities such as gymnastics or martial arts that require close attention to body movements also help children with ADHD activate their attention system. Other sports that help promote teamwork, self-confidence, concentration, and self-esteem are soccer, archery, and horseback riding.
Try essential oils instead of a fidget spinner.
If you think your child benefits from using a fidget spinner, but you think it is distracting, consider offering essential oils to help increase focus and attention. Vetiver oil is one oil that has shown to be particularly useful. It has shown to improve the brain wave patterns and behavior in children who breathed it in three times a day.
Vetiver essential has also shown promise for children with ADHD. An animal study revealed increased alertness and research on human subjects showed faster reaction times and an increased stimulation of the sympathetic nervous system following inhalation.
What about lifestyle changes?
Natural and behavioral therapy are both important in the treatment of ADHD. Dietary strategies can also be very helpful, such as limiting sugar and avoiding gluten. Some studies have actually suggested that celiac disease should be considered when diagnosing a child with ADHD.
Children who are low in omega-3 fats may also be more prone to being hyperactive, have a learning disorder, and exhibit behavioral problems. Addressing nutrient deficiencies like these and avoiding toxic exposures is an important part of managing ADHD symptoms.
While a fidget spinner may provide some distraction or calmness depending on the child, treating ADHD, anxiety, and other mental health illnesses requires a more comprehensive and holistic approach.
For more articles go to http://thrivefitnessandwellness.lifestyleezine.com